Not So Large Pumpkins
---
Jack Be Little
Charming, little, flattened, ribbed, orange pumpkins avg. 3-4" in diameter for table decoration. A steady children's item for farmer's markets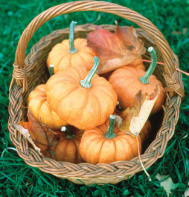 Winter Luxury
This marvelous, small pumpkin has a unique, netted skin. Typical weight is 5-7 lb. Doing double duty, Winter Luxury is not only a gorgeous ornamental, but is also superb for eating.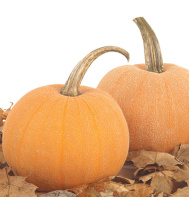 Chucky
Chucky is an early-maturing, 'kid-size' pumpkin with nice handles.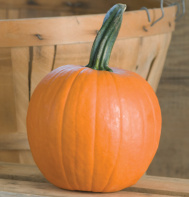 Orange Smoothie
Medium-small, smooth painter.
Bright orange, smooth, nonribbed, round fruits avg. 6-9 lb. Nice handle. The best painter we have seen in this preferred size.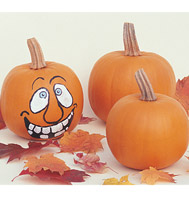 Baby Pam
Bright, deep orange skin and thick, tan handle. Attractive small pie pumpkins avg. 4 lb.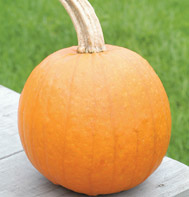 Baby Bear
Kids love them.
This 1993 All-America Selections winner received high marks in official AAS trials across North America. Baby Bear is a unique size and shape, and is often called "the perfect mini pumpkin". Deep orange, 1 1/2-2 1/2-lb. fruits are about half the size of a normal pie pumpkin. With slender, sturdy, easy-to-grip handles, they are very appealing to children.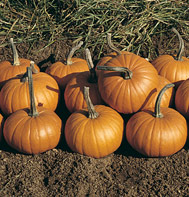 Wee-B-Little
Tiny, round pumpkin.
Remarkably miniature, about the size of a baseball, avg. 3-3 1/2" diam., 10-14 oz., and very endearing. Slightly flat-round shape like a normal pumpkin. Bright orange rind, smooth enough for painting. 1999 All-America Selections winner.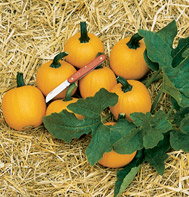 Baby Boo
Miniature white pumpkins add to your holiday decorating! These little 2-3 inch guys are cute.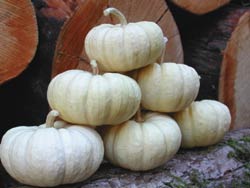 Orange Cutie
A pumpkin really can't get any cuter than this! Mini, bright orange fruit are highlighted with pale, creamy orange streaks. Averaging about 6 inches across and 5 inches tall. They are perfect for autumn decorations.